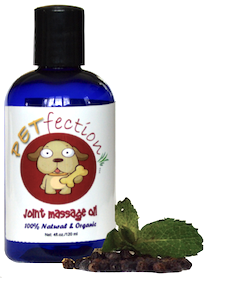 Joint Massage Oil
$12.99
PETfection Joint Massage Oil is designed to heal and reduce inflammation in your dogs joints and muscles. It can be used on arthritic hips, limping legs, pulled muscles or tendons, and stiffness found throughout the body.
Through massage, this Non-Toxic, 100% Natural & Organic formula acts as a local anesthetic relieving pain and stiffness, while reducing inflammation. Massage is a great way to stimulate the body to naturally heal itself!
Use this oil daily or as needed. Shake well before using. Pour the oil into your hands before applying or pour directly onto the affected area and massage in until absorbed. This oil is safe to lick, but keep away from the dog's eyes & mucous membranes. We don't recommend a person with kidney disease should handle this product due to the juniper berry being present. Store this oil in a dark, cool location for best keeping.
Absolutely NO alcohol, chemicals, artificial fragrances, dyes or additives are used. Made in the USA!
Read more on Joint Massage Oil for Canine Massage.